"SPIRIT OF THE AIRBORNE"

A limited edition life-size bronze bust

by sculptor Ron Petitt

"Spirit of The Airborne"

Limited to an Edition of 19

Life-Size Bronze Bust with Solid Walnut Base

24" high x 16" wide x 13" deep

Call or e-mail for pricing.

"Serving as a soldier during the Vietnam War imparted a dimension to Ron Petitt's (art) work that no other life experience could.  It gave him credibility."

                    - Jane McBride-Feature Editor

       The Beaumont Texas Enterprise



   Veterans Day 2002
In 2001 artist Ron Petitt  was commisioned to create a commemorative Airborne sculpture for presentation to Tom Hanks and Steven Spielberg for their work on "Saving Private Ryan" and  "Band of Brothers". 

The strong reaction to that sculpture has led to other offers for Ron  to create life-size military sculptures.

As a prelude to the full-size figures, Ron created one of the finest examples of military sculpture found in today's sculpture market.  The title, "Spirit of the Airborne",  was given to the original sculpture by Tom Hanks.

The quality and attention to detail speak for themselves.


COPYRIGHT 2002-2005 RON PETITT

970-402-1950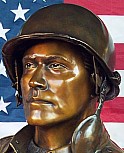 CLICK ON THUMBNAILS TO ENLARGE